Team
Every team member has an origin story. We have evolved from a small group of passionate artists to one big, and continuously growing, family. People here aren't paid much, if at all, so you have to really want to be here and really believe in the success of the space. There is no cleaning crew or production crew, there's just a bunch of artists who keep showing up at the right time to keep the dream alive.
Our team includes a lot regular volunteers who help make things happen. Here are just a few of the people behind the magic:
Sound Technician / Screen Printing Instructor [He/His] 💖 Aaron has a background in printmaking and music. He is currently working with Charles Schwab to oversee workshops in Bakie Makeyspace. He's finishing his Masters degree in Studio Art at Georgia State University where he is using his interest in sound to navigate a visual language from his mad scientist experiments with electricity and drawing. He's also an avid synth head, performing around Atlanta and providing educational programming via Atlanta Synth Club.
Director of Programming [She/Her] 💖 Amanda is a planner, organizer, curator, and friend. She began as a volunteer when we opened in 2017 and her role now ranges from administrative tasks and giving tours to taking in events and assisting with production. She has a Communication degree from GCSU and specializes in public relations and event coordination. She also works for Living Walls, a public art non-profit. In her free time she helps run Plasma Magazine, a local publication, and YES MA'AM, an art party fundraiser. amanda@thebakeryatlanta.com
Art Gallery Assistant [She/Her] 💖Annie supports behind-the-scenes work for gallery events and other projects. Her goal is to help however she can and learn and grow alongside some cool peeps. Outside of Bakie, you can catch her thrifting for oddities or dillydallying with flowers. Stay fresh! gallery@thebakeryatlanta.com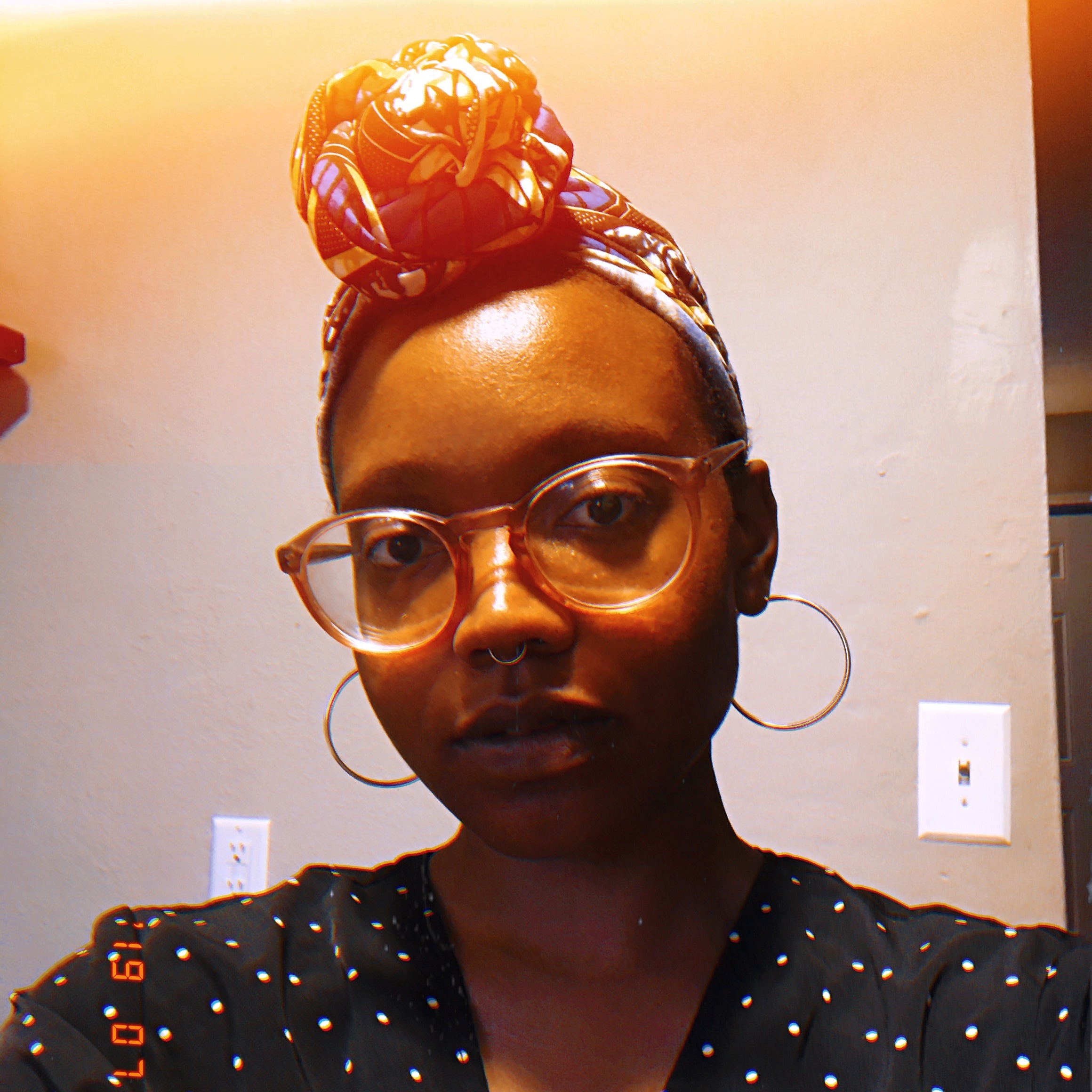 Booking Intern [They/Them] 💖Camden is a non-binary writer, poet, a preschool teacher and a Baltimore native. They have loved all music and the DIY music scene since they were a teenager sneaking into shows and listening to way too much Radiohead. They fell in love with the DIY music scene and booking after helping friends organize and promote house shows and poetry readings in Baltimore. They are passionate about creating an inclusive space for marginalized people to enjoy music, preserving DIY venues in inner city communities and petting other people's dogs. booking@thebakeryatlanta.com
Handyman / Studio Artist [He/Him] 💖 Chris is Bakie's right shoulder. With building and repair skills, he helps keep this place together. Chris is also an experienced freelance percussionist of 19+ years. He has studied drum set, hand drums, and classical percussion under various teachers. He has played in a variety of groups and plays anything from found objects to timpani. Chris is also a composer of classical and contemporary music. He strives to show others how they too can turn a gift into a way of life through teaching percussion.
Venue Manager [He/Him] 💖 Daniel handles booking and promotion for touring acts, balances the needs of performers, and the upkeep of audio equipment and facilities. He books under the moniker Face of Knives, and primarily works with Metal, Punk, Harsh Noise, Performance Art and the Avant-Garde. He performs with the bands, Malevich and Hallowed. His goal is to curate a space where people feel challenged, yet safe and connected, encouraging conversation and pushing boundaries. daniel@thebakeryatlanta.com
Photo/Film Booking [He/Him] 💖 For the past few years, Davonte has been documenting the nationwide underground Hip-Hop and R&B scene. He's an avid photojournalist based out of New York City/Atlanta who has visually documented cultural events around the country. His passion is to showcase art visuals and audio while telling the stories simultaneously through his lens. In Davonte's spare time he sings and recently started a band. He says, "I live my life as a magical gypsy with a camera and it is important that I share the stories of the many people I encounter on my journey." events@thebakeryatlanta.com
Event Staff / Volunteer [Fluid] 💖 Delaine is a frequent volunteer, consultant, and is just generally useful. He enjoys being part of The Bakery because he gets the opportunity to turn his appreciation for art into a hands-on experience helping make art accessible and welcoming to all. Delaine moved to Atlanta from L.A. in 2012 and immediately fell in love with the creative energy and DIY culture. When he's not helping out at Bakie, he's pedaling across the city.
Sound Technician [He/Him] 💖 Jesse studied audio engineering and production at the Art Institute of Atlanta and has a background in composing and sound design. He is a singer songwriter who is always trying to keep his audience their toes. He also has an electronic project called Media Friend. Jesse walks fast, talks soft, and laughs like Eddie Murphy. When he's not making music, he enjoys running, biking, and nerding out about beautiful, sad movies.
Event Manager [He/Him] 💖 Jordan Neal is a writer, photographer, and graphic designer from Atlanta. He is the founder of the publication Plasma Magazine which features content from Atlanta's creative DIY community. Jordan uses his interpersonal skills and resources to connect creatives and makers throughout the city and values each connection he makes. He's a gentle giant with a good heart. events@thebakeryatlanta.com
Wood Shop Supervisor [He/Him] 💖 John manages tools, teaches workshops, and supervises members of Cut Cake Factory, Bakie's community wood shop. He's an Atlanta native and has been a fabricator and carpenter since 2013. He really likes dogs and eats too much pizza. Come say hi and bring him a slice!
Film Curator / Event Manager [He/Him] 💖 Lev is a Ukrainian-American visual artist and curator. He has been part of The Bakery since August 2017. As a Curator, he brings together gems from the national film festival circuit and prominent filmmakers in the local community. Lev also lead the creation of the community garden which will expand into an Earth School program in Spring 2019, and will feature film programming that highlights climate and sustainability. He is an independent filmmaker; his work aims to sanctify the forgotten and marginalized, and to collaboratively imagine a more sustainable future. lev@thebakeryatlanta.com
Gallery Assistant [They/Them] 💖Maddy is a local filmmaker, GSU student, performance artist, recycler, and lover of DIY art. gallery@thebakeryatlanta.com
The IT Department [She/Her] 💖 Maggie is an experimental artist who specializes in the design and development of sustainable social systems via technology and accessible educational programming. She is currently focused on developing sustainable educational and income-generating programming for community organizations in the Atlanta area. She founded and runs Sreetcat Media, a business that collaborates with organizations and individuals to create accessible human interaction with technology. Her latest project is the new community wood shop, Cut Cake Factory, located here at The Bakery. hello@cutcakefactory.com
[She/Her] 💖 Meredith is an artist, critic, curator, and educator based in SWATL. She uses research-, social-, and process-based practices engaging radio broadcast, performance, drawing, mapping, writing, zines and book-making, video, photography, and installation to illuminate the embodied and multi-layered nature of place and space. She is the founder and director of ALTERED MEANS, a curatorial project. She received her MA in Visual and Critical Studies from the Art Institute of Chicago and is currently writing her dissertation to complete her PhD at Emory University in the now-defunct Graduate Institute of the Liberal Arts.
Event Staff/Volunteer [They/Them]💖 Milk - like the stuff you drink, or don't drink. No matter the task, just ask, and they'll gladly help (just don't mention their height.) Graduating from Georgia State spring of 2019 with a BA in Studio Art, Milk's work consists of various forms including printmaking and expressive murals.
Community Manager [She/Her] 💖 Naya does administration tasks, gives tours, and works events at The Bakery. She is also a part of the Mediation and Communication Committee, and a staff writer for Plasma Magazine. Naya writes articles, poetry, dabbles in fiction, and thoroughly enjoys interviewing. In her spare time, she is drinking coffee and attempting to write good sentences. Follow her on twitter @nayaphilosophy.
The Muscle [She/Her] 💖 Being co-founder of The Bakery, Olive wears a lot of hats around here. Including team mom, official chef, and recycle queen. She cares for and frequently feeds both staff and visitors. Olive has also developed an easy and organized system for sorting our recyclable materials and waste. When she's not at The Bakery, she plans to spend her time volunteering at CHaRM, a local center for hard to recycle materials, or snuggling with her two dogs, Hey You and Dude. olive@thebakeryatlanta.com
Film / Photo Booking [She/Her] 💖 Onyx has been with The Bakery since it's beginning. She pushed for having photography and film bookings and this has been a big contribution to the Bakery's growth. Onyx has been involved in theater and film since she was in middle school. She's been involved in large productions like Little Debbie's and Gatorade commercials to small sets like the Pack of Laughs. onyx@thebakeryatlanta.com, piepixelstudios@gmail.com.

Lighting Technician [He/Him] 💖 Parks helps keep the Bakery lit. He collaborated William Kennedy to create the LED grid on the main stage. Parks helps out with various lighting needs. including design, install, and upkeep. He also has ambitions to be the Master Compost Technician during the warmer months in the community garden.
[She/Her] 💖 Pearl has volunteered with The Bakery since Fall of 2017. She managed and maintained the art gallery and balanced the needs of the artists that used from the opening in 2017 up until summer 2019. She has taken a step back from Bakie to focus on her own creative projects. Pearl is a visual artist originally from the Gulf Coast. She earned her BFA in Studio Art with a focus in painting and drawing at Auburn University. Her current work explores themes of tediousness, excess, play, and reuse.
Event Staff [They/Them] 💖 Peyton started volunteering in 2017 and starting slinging drinks in summer of 2018. You can find them behind the bar at music shows cracking open cold ones for the boys (and girls and everyone in between). Peyton also creates fun, specialty cocktails for themed events. When they're not working you can find Peyton gardening, playing Magic TG, listening to McElroy podcasts, and befriending stray cats.
Event Staff [He/Him] 💖 Ro started at Bakie as an Events/Admin Intern. Now, he works event and ~glues~ together collage night the second Tuesday of every month. Ro is a journalism student at Georgia State with a passion for criminal justice reform, obliterating the gender binary and good food. events@thebakeryatlanta.com
Event Manager / In-House Stylist [She/Her] 💖 Smart, sophisticated, and the baddest bitch in the castle. Severiana can and does do just about everything from sound engineering to cooking family dinners. seve@thebakeryatlanta.com
Booking Intern [She/Her] 💖 If you're looking for Shira, you'll find her combing through emails to book shows, working the door at events, or learning sound tech from the gurus at The Bakery. In addition to all this, Shira is a Music Management student at Georgia State University and curates and runs her own super cool radio show Jew Jams on 88.5 FM. Give her a snack and a smile and you'll get along just fine. booking@thebakeryatlanta.com
Event Manager [He/Him] 💖 Stephen has a Communication degree from Georgia State where he studied film and journalism. He is the editor and chief of Plasma Magazine, a local publication covering the DIY music, art, and culture of Atlanta. He is also the host of Plasma Mag's podcast, State of the Matter. In his free time, you can find him shooting music videos or working on his new experimental podcast titled "How to Catch Moose and Squirrel." events@thebakeryatlanta.com
Creative Director / Benevolent Dictator [She/Her] 💖 Willow is an administrator with 10 years of experience in art management. Originally from Atlanta, she went to Boston to study art and business at Northeastern University. There, she worked for a photographer and then at The Museum of Fine Arts. Upon moving to NYC in 2012, she began organizing with 'Arts in Bushwick' producing the nation's largest open studio festival. Since moving back to ATL, Willow has invested in the local art scene by renting a studio at Mammal Gallery, then joining the Board at Eyedrum, and later working as a Community Manager at Strongbox West. In October 2017, she opened The Bakery which has become a home to Atlanta's DIY culture after the shuttering of many local venues.
Facilities Manager [She/Her] 💖 As an early on member of The Bakery, Xenia is often involved with many different projects, from event production and in-house programming to painting Bakery walls and reorganizing the space. As a multi-hatted member, she runs the yoga program, and co-runs the Unicorn Gardens outings. Xenia is an installation artist with a background in sculpture and design. xenia@thebakeryatlanta.com
Honorary Friends of The Bakery
Mark 'Q' Gilbert, Blake Temple, Monte Qarlo, and Kiwan Benson.
💖 These lovely people are no longer with us but their impact on The Bakery will live forever. 💖